www.munsterdirectory.com was established in 2005
Our initial goal was to provide computer & Internet services, including web site design, graphic design, and computer and internet consulting to SME market in the Munster area.
A few months after our start we realized, that most small Irish companies although they are using computers at their offices and some of them have their own web sites, there is still a gap between them and the customer that wants to reach them, through the Internet because those companies lack Online Marketing experience and solid understanding of internet marketing techniques. this is where we saw a gap in the market.
SEM = Search Engine Marketing
SEO = Search Engine Optimisation
SEO – why ranking highly with Search Engines matters!
Whenever keywords are typed into a Search Engine (see Diag. 1 below), you will get back a page of results,
These pages are called Search Engine Results Pages, or SERPs.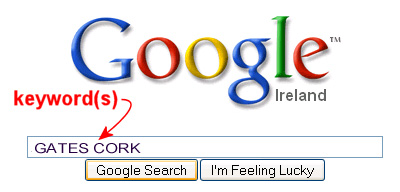 Diag.1 Typing Keyword(s) into a Search Engine
This is the most important way to promote your business to online customers. It allows you to target users that are pro-actively searching the web for your product or service that you offer. It is essential that you get your message across to these potential customers while they are on their path to purchase.